Open Educational Resources
Open Educational Resources
Open Educational Resources (OER)
Open Educational Resources are learning, teaching and research materials in any format and medium that facilitate and enrich learning and promote digital literacy among learners. OER are easily adaptable to the needs of individuals.
Reuse– Content can be reused in its unaltered original format – the right to use the content in a wide range of ways.
Retain– Copies of content can be retained for personal archives or reference – the right to make, own, and control copies of the content.
Revise– Content can be modified or altered to suit specific needs – the right to adapt, adjust, modify, or alter the content itself.
Remix – Content can be adapted with other similar content to create something new- the right to combine the original or revised content with other material to create something new.
Redistribute– Content can be shared with anyone else in its original or altered format – the right to share copies of the original content, your revisions, or your remixes with others.
OER and OA. Open Educational Resources (OER) represent a subset of Open Access (OA) material. OERare always Open Access, but not all OA materials are considered OER. Open Access materials incorporate all types of information that are freely available to the public.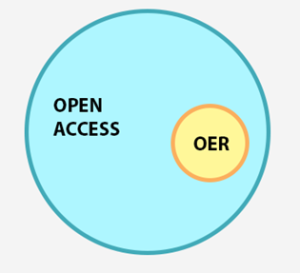 Open Educational Resources:
 Open Educational Resources Commons/OER Commons
OER Commons is a public digital library of Open Educational Resources. Open Educational Resources are open, free and high quality digital materials for university-level learning courses. These materials are used as a basis for organising courses, which often include course planning and assessment tools and thematic content.
These resources can be shared online as an integral method of delivering the curriculum in courses (i.e. resource-based learning). Importantly, they are distinguished from other educational resources by the use of licences by the HE community to facilitate reuse and possible adaptation without seeking permission from the copyright holder.
Teaching and learning resources from all over the world. Curriki offers dynamic, interactive learning content that aims to use technology to improve the quality and accessibility of online education and help every student achieve better, personalised learning outcomes, anywhere, anytime.
Provides free teaching and learning materials in a wide range of subject areas to enhance the education and training of students and teachers. Publishes open access licensed books, develops and enhances research-based materials
Open access textbooks from the University of Minnesota and Purdue University, licensed by the publishers and authors for free use and adaptation: downloadable, editable and freely redistributable.
Free Open Online Courses
Free Open Online Courses are educational online courses provided on dedicated platforms  that work in partnership with universities and host on their websites courses developed by universities or by professionals in their field. These courses allow anyone to improve their knowledge, skills and competences. Participants may be awarded certificates upon completion of courses and assignments, but some platforms charge a fee for certificates.
Alison is one of the world's largest free learning platforms for education and skills training. It is a for-profit social enterprise dedicated to making it possible for anyone, to study anything, anywhere, at any time, for free online, at any subject level. Through our mission we are a catalyst for positive social change, creating opportunity, prosperity, and equality for everyone.
CANVAS promotes openness, innovation, and experimentation in education by giving educators access to professional development courses and programmes to help them grow and succeed in their careers.
Free online courses on a wide range of topics from the world's top universities and companies. The platform partners with over 275 leading universities.
Enables you to start, change or advance your career with more than 5,400 courses, professional certificates and degrees from world-class universities and companies.
Works with many leading universities. The course is designed for those new to e-learning and looking for strategies to succeed online, as well as for advanced professionals. Free online courses are available in the arts and a wide range of academic subjects.
The platform works with leading universities around the world to offer free online courses on topics such as data science, artificial intelligence, machine learning, cloud computing, cybersecurity, UI/UX design, information technology and software, management, digital marketing, etc.
Harvard University free online courses
Harvardo universiteto nemokami internetiniai kursai temomis: menas ir dizainas, verslas, švietimas ir ugdymas, sveikata ir medicina, matematika, programavimas, kompiuterių,  duomenų, humanitariniai, gamtos ir socialiniai mokslai.
Massive Open Online Courses are free online courses that anyone can register for. Courses are an affordable and flexible way to learn new skills, advance your career and get a quality educational experience. The platform offers a wide range of courses in a variety of academic fields.
Free courses run by the Open University, grouped under the following themes: Health, Sport and Psychology, Education and Development, History and Art, Languages, Money and Business.
Skillshare is dedicated to learning in the arts and creative sciences, but is developing rapidly to cover more subjects such as information technology, business, marketing, language learning and so on. A paid subscription (monthly or yearly) is required for use. The platform offers free small video material to give an overview of certain topics.
Free online courses from Stanford University, giving you the opportunity to learn new skills and study new subjects. Course topics include: medicine and health, education, engineering, arts and humanities.