Springer Nature Virtual Summit
We cordially invite you to Springer Nature Virtual Summit 'Books Now and in the Future: Accessible, Relevant, and Innovative' on Wednesday November 8, 2023 at 12:00 – 14:15 CET. 
We have prepared a very interesting program for you, which will include presentations on Springer Nature (e)Books update, Importance of (e)Books, Publishing highlights of our eBooks Portfolio and an elaborated session on the Impact of eBooks and collections development strategies – eBook Models.  Our speakers will illuminate the topics from a wide range of angles.
Additional to (e)Books information sessions, we will be having a Panel discussion with library experts from the region and discuss together the upcoming trends and needs in academic publishing, library services and how publishers can improve and better support academic institutions in the future.
Please note we are hosting the Summit in Zoom meeting in English language, which will give you more opportunities to ask questions and for discussion with your peers.
We encourage you all to attend and take this opportunity.
Please find the draft agenda below: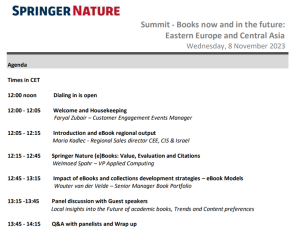 To register, simply click on the link below. You will then receive a confirmation email, containing the link to the Summit.
https://us06web.zoom.us/webinar/register/9616963259587/WN_yw5kgnRuRoy-84xHwMW5qg