Information for first-year students
Congratulations on becoming members of the university community, we wish you successful studies and invite you to get acquainted with the university library!
Detailed information about the library and its services is presented on library website.
Pay attention to the structure of the library – departments are in 2 cities and 7 buildings.
Find out the opening hours of the departments (libraries), as they differ.
Important! By signing study agreement with the university, you get the right to use the services provided by the library without additional registration.
Using the university e-mail and logins to it, you will be able to request items, renew loan term, read electronic information resources from your home or other remote computers, receive our e-mails.
Use virtual library to find information about the necessary items and request them. You can also find items independently in the open stacks of the library.
Borrow publications and return them using self-service devices in library departments.
In the wall of the building at K. Donelaičio Str. 52 there is item return device operating 24/7.
Return items in time, as other readers are waiting for them. If not – renew the loan term by logging in to your account in the virtual library.
Use electronic information resources in licensed databases, VMU science management system VDU CRIS, open access resources in the virtual library.
Register for trainings provided by library staff and order their consultations.
Learn more about the services provided by the library by turning on the video presentation About the library
The exhibition of paintings by Ieva Grunskytė
We invite you to visit the exhibition of paintings "Stories" by artist Ieva Grunskytė at the Agricultural Academy Library of Vytautas Magnus University (Studentų str. 11-235 k.).
" The world around me inspires painting: the stories I see in people, landscape, things. When you take the brush in your hands, human experience comes to life with feelings and emotions on the canvas. Stories that bring us together, enrich, broaden horizons".
Ieva Grunskytė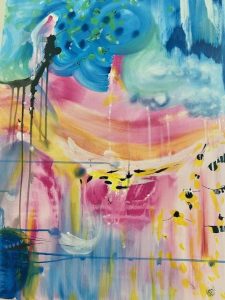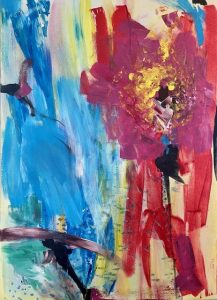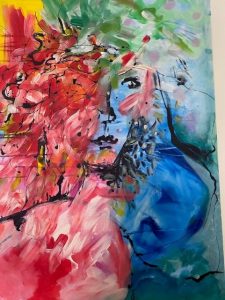 International Open Science Summer School for Students and Young Scientists at the University of Maribor
The Library of the University of Maribor is organising a new edition of the summer school course, the University of Maribor Open Science Summer School, between 11 and 15 September 2023. The one-week course aims to provide students and young researchers with an opportunity to learn and develop skills in the areas of research data management, open access to research results, use of open research infrastructures, supercomputing resources and the European Open Science Cloud. With lectures and workshops led by national and international experts, the course will provide a deeper understanding of these topics and an insight into valuable practical experience.
The course takes place in person at the University of Maribor Library in Maribor, Slovenia and is taught in English. There is no course fee. Participants who successfully complete the course will receive 3 ECTS credits.
 All information, the programme and the application form can be found on the course website https://open.um.si/. For further information, please contact the coordinator Brina Klemenčič (brina.klemencic@um.si).
Trial access to ProQuest One Psychology
ProQuest One Psychology is a comprehensive multi-format destination for teaching, learning, and research in the fields of psychology, counseling, and numerous other behavioral science disciplines, such as social work or industrial-organizational behavior management. Millions of full-text items including scholarly journals, videos, transcripts, dissertations, popular news sources, and more are supplemented by topic pages covering presenting conditions, therapeutic approaches, tests & measures, research concepts, and various featured topics.
 The database is available to University users until 25 May, 2023.
VMU is a member of ORCID
Vytautas Magnus University became a member of the ORCID (Open Researcher and Contributor ID) organization. It is a non-profit organization that aims to create a permanent registry of researchers' unique identifiers and a way to link these identifiers to research activities and outputs (articles, monographs, books, datasets, programs, reviews, patents, grants, researcher profiles and other research-related information). By assigning unique identifiers to authors, the aim is to solve the problems of name ambiguity in scientific research, to ensure an open and transparent linking mechanism between ORCID, other personal identification systems and research objects.
VDU ORCID membership will facilitate ORCID registration, authentication to the VMU research management system (VDU CRIS) with ORCID logins, synchronization, editing, and updating of the researcher's ORCID record information with the VMU CRIS researcher profile. This will facilitate the administration of research production and activities, the preparation of reports, the evaluation of research production and will also improve the international visibility of the University's researchers.
How to take advantage of article publishing fee discounts
Article Processing Charges (APC) is a fee paid to a publisher to make an article freely available online. The fee can be paid by the publication author, institution, science funding organizations, private sponsors and patrons.
According to agreements with publishers, university authors can publish in open access journals without paying APC or discounts are applied to that fee.
For example, in order to publish in Taylor & Francis open access journal "Food and Agricultural Immunology",  VMU coordinating author (corresponding author) could receive 50% discount for APC fee (fee without discount €2180).
Alternatively, VMU coordinating author (corresponding author) could publish for free in the publisher's SAGE hybrid journal "Urban Affairs Review". The discount is automatically applied when an author selects an institutional affiliation in SAGE. Once an article is accepted for publication, the publisher will contact the author to make the article open access. Note. Costs for publishing publications in hybrid journals are not covered by LMT projects.
More information about the EIFL (Electronic Information for Libraries) association, of which VMU is a member, contracts with publishers on APC fees for authors (searchable by publication subject, access type, publisher, country, discount) here.
Deadlines:
Open access journals – electronic scientific journals, all articles of which are peer-reviewed and openly available online, without additional charges for the user. The user, if allowed by the Creative Commons CC-BY license, can create derivative works based on these articles.
The golden path of open access is publishing articles in open access journals. When publishing through the Golden Open Access Path, publication costs must be borne by the author, funding or sponsoring organizations, or other sources. Publications become publicly available immediately after publication.
Hybrid journals – electronic scientific journals that provide open access only to those articles whose authors or funding institutions have paid the publishing costs; access to the remaining articles is only available to subscribers for a subscription fee.
https://www.lmt.lt/lt/mokslo-politika/atviroji-prieiga/samprata-ir-terminai/740
Exhibition of Diana Zviedrienė's paintings
We invite you to visit the art exhibition "Tractor portraits or ironic Lithuanian romanticism" by the artist Diana Zviedrienė, which is exhibited in Agriculture Academy Library (Studentų str. 11-235, Academy).
Library opening hours during the exam session
Leonidas Donskis library (V. Putvinskio g. 23, Kaunas) will be open 24 hours a day from May 23th until June 13th (except June 4th, Father's Day: June 3 will work until midnight on June 5 will start work at 8 o'clock in the morning).
To make everyone in the library feel good, let's not forget the rules:
From 9 pm, access to the library will only be possible via the patio, upon presentation of a VMU student status document (LSP, ISIC certificate or another certificate with valid verification).

From 8:00 to 21:00, the library will be supervised by library staff, followed by security staff.

From 9 pm only the library will be open, so it is strictly forbidden to go to other parts of the building (except to toilets which are located on the 1st floor of the building).
We wish you good luck in the exams!
Taylor & Francis Researcher Webinar Series – March 2023
Registrations for 2023 Researcher Webinar Series, hosted by Taylor & Francis are open. There is also information such as a short description on what to expect from the webinar, as well as a biography of the speakers. The webinars will be recorded and made available to all registrants after the talks take place.
Please find below the list of events in March with registration links:
Elsevier webinars February-June 2023
The academic publishing company Elsevier invites the researchers, research managers and librarians to free online webinars. These one-hour sessions can be very helpful with staying up-to-date on the latest trends and developments as well as networking and building relationships with others in the research community.
Schedule of webinars and registration: